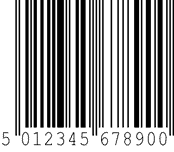 Have you heard bout barcode? Barcode by the definition is an optical machine-readable representation of data. Barcode originally is invented for the purpose of better automated customer purchasing.
Nowadays, almost all the products in the market or even our local small shops have a barcode. Do you know what's information can your extract from the barcode actually?
The 3 intial numbers of the barcode can represent the country of the product's origin. You can click this link for barcode prefix; http://www.gs1.org/productssolutions/barcodes/support/prefix_list.html
And we can trace the company that produces the product by visiting this link. However, sometimes the barcode of the product doesnt represent of the real owner of the manufucture of the product as the 3 initial barcode number of the product represent where the product is being produce under license of the real owner, at other country.
For instance, the real owner of the product is from America but the product is produced in other country such as Malaysia.
Here are the steps of checking the origin of the product by using the barcode:
1) Look up for the barcode product
2) Go to this website; http://gepir.gs1.org/V31/xx/gtin.aspx?Lang=en-US
3) Type out the barcode number, select the "Trade Item Ownership" and enter search button
4) Voila, u got the information
*No harm of trying to check the barcode as atleast we might now the country origin of the product. Happy trying! And may be u can came across to Australian product, American product, Brittish product or even Israeli product. Who knows!